4DVD set FIX REPAIR TUBE GUITAR AMP troubleshoot valve amplifier for EL84 6L6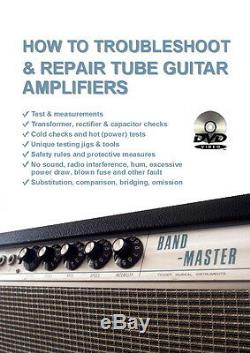 Program 9: 4 DVD SET + Book, practical DIY video workshop: How to Troubleshoot & Repair Tube Guitar Amplifiers. Two vintage amps (from the 60's) were used as examples, a Fender Bandmaster head with 6L6GC power tubes and tremolo, and Teisco Checkmate 20 combo with EL84 output tubes, reverb and tremolo effects. The principles and methods apply to all valve (tube) guitar and bass amplifiers, even to hi-fi amps, so using the knowledge gained here you should be able to repair any tube amp. 4 DVD set + A4 size accompanying booklet.
Produced and recorded in Australia. English, color, no subtitles, region-free, PAL standard.
REFERENCE MANUAL - this unique program comes with an accompanying A4 sized manual, a great reference book with schematics, close-up photos of important details and photos of the flip-charts used in the program. Some of the topics covered. Fault symptoms and suggested solutions: n. Amplifier keeps blowing the mains fuse.
4 quick fault location methods: comparison, isolation/separation, substitution, bridging & bypassing. Replacing the old 2-pin power cord with a 3-pin grounded cable and modifying the mains side of old amplifiers to make them legal. Converting amps designed to operate on 220Vac for operation on 240 Vac mains. Measuring & replacing electrolytic filter capacitors.
Testing & replacing leaky coupling and bypass capacitors. Testing & measuring filter chokes. Measuring DC voltages (heater voltage, bias voltage, plate voltages, screen voltage, cathode voltages). Measuring DC current through power tubes (checking bias).
Cold checks (with power off). Hot checks (with power on). 3 types of diagrams: block diagrams, circuit diagrams (schematics), wiring diagrams. Determining the windings of an unknown power transformer.
Quick testing of power & output transformers based on magnetizing current. Modifying the power stage so bias current can be measured.
Determining normal power draw of an amp. Measuring the actual power draw of an amp. Measuring amps maximum output power. Quick speaker checks plus measuring their resistance and impedance.
We also give you designs for a few simple yet valuable measurement tools that you can make yourself. Bob's Black Box, a simple but very effective power meter (watt meter).
8-pin and 9-pin tube test jig (you unplug a tube, plug this jig into the tube socket, and then plug the tube into the socket in the jig). Now you have access to all the pins so you can measure all DC voltages and AC signals! Capacitive signal measurement tool (to remove DC current from AC signal). IF A PICTURE IS WORTH A THOUSAND WORDS, THIS VIDEO IS WORTH A MILLION! Most of the information revealed in this video program is not available in a visual format anywhere else - finally you can see how it's done and hear the commentary while each operation is being performed. Reading about something is one thing, and seeing an expert do it in front of you (and explain how and why) is something completely different! In an unlikely case of any problems with DVDs, faulty disc(s) will be promptly replaced and mailed to you at our expense. We wish you every success with your DIY project and your quest for good sound! The item "4DVD set FIX REPAIR TUBE GUITAR AMP troubleshoot valve amplifier for EL84 6L6" is in sale since Sunday, April 29, 2018.
This item is in the category "Musical Instruments\Guitars & Basses\Guitar Amplifiers". The seller is "tubeampdvds" and is located in Canning Vale, Western Australia.
This item can be shipped worldwide.
MPN: Does Not Apply