Glarry GTL Semi-Hollow F Hole Electric Guitar Set+Bag+Tool+Pick+Strap UK Seller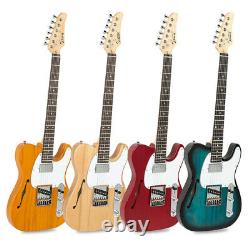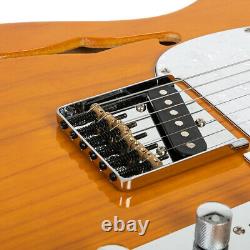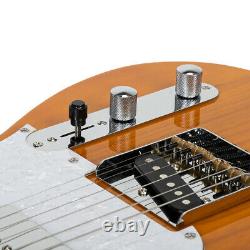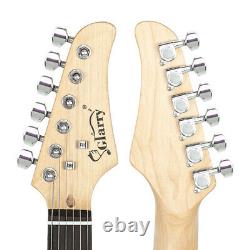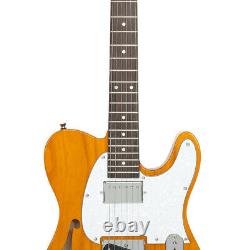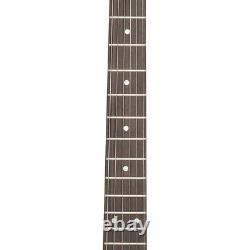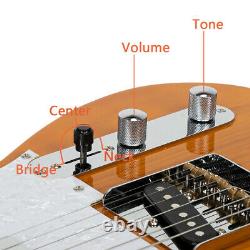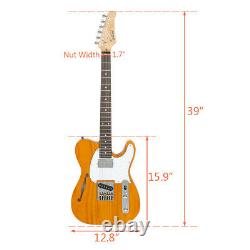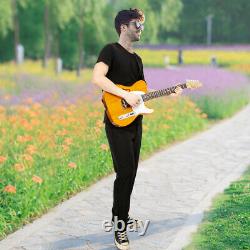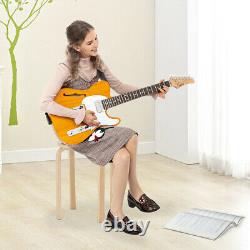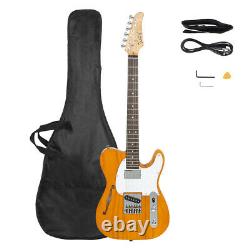 Glarry GTL Electric Guitar - 4 Colours. Semi-Hollow F Hole Electric Guitar set(optional) w/t Cable, bag & tools. Pursue your own musical dreams, get your Glarry GTL Semi-Hollow Electric Guitar today, feel free to watch & read reviews first. With HS Pickups, Rosewood Fingerboard & White Pearl Pickguard ensure a great sound and sustain in this guitar. A classic solid Basswood body and a bolt on Maple neck, together with the F Hole semi-hollow structure that gives a tempting warm overtone on the traditional TL tone.
Creating a slight hoarse sound, perfectly combining modern features with traditional aesthetics, matching the 6-piece string saddle string body bridge. Package Options: The Guitar only - includes: 1 x Guitar The complete guitar set with full accessories - includes: 1 x Guitar 1 x Guitar Bag 1 x Strap 1 x Connecting Cable 1 x Spanner Tool 1 x Plectrum Specifications: Frets: 22 (White copper) Nut width: 1.656 in. (42 mm) Scale Length: 25.5" Control: 3 Way Switch; 1 Volume, 1 Tone Hardware: Fixed(Chrome) Guitar Dimensions: (39 x 12.8 x 1.7)" / (99 x 32 x 4.5)cm(L x W x H) Guitar Weight: 5.95lb / 2.7kg. Light Teak - Orange Light Pine - Natural Waxed Padauk - Red Teal Blue - Black.
By Darrell Braun Guitar qGzHWo1XftY. Open any youtube clip, replace the last bit of address whatever after'watch? V=' with qGzHWo1XftY to watch the full review. Glarry GTL Semi-Hollow Electric Guitar Review By TheDelRe Wkd4lO02ScA. V=' with Wkd4lO02ScA to watch the full review.
V=' with iqLRkcnWefk to watch the full review. By Ca on August 27,2020 Review from a Fender Telecaster fan/player since 1976. I bought the Glarry GTL Semi-Hollow Electric Guitar F Hole HS Pickups Transparent Wine Red. I lowered the strings and tweaked the intonation a little, and a quick 1000 grit sanding to the back of the unfinished maple neck. This guitar is truly amazing at this price, The neck is comparable to my old 1972 fender telecaster, though it does have bigger frets. The pickups aren't that bad either. It's a great beginners or practi... By Bn on November 23,2020 It's a very nice guitar, especially for the price. The finish is as good as any guitar I have owned over the years, to include fenders.
Would recommend Glarry to any new starter or someone that wants to increase there selection of playable guitars without going to deep into the pockets by Ny on August 27,2020 I've bought several inexpensive guitars lately and this is one of the best in looks and feel. It's a burlywood which looks great and has a nice finish (except for a small crack in the neck pocket). The only obvious issue is that two of the strings are strung through the saddle springs. I had planned on using this guitar to practice upgrades on so, if I have to replace the bridge, that's ok.
That being said, I was expecting to also replace the tuners, neck and then pickups. By Mt on December 30,2020 Sounds good, looks good, arrived promptly. I bought the guitar as a base for updating the spec by adding some hardware updates... Locking tuners, Roller string trees, TUSQ nut, Strap Locks, new pickups and a Stetsbar Tremolo, and a good setup. That done, it will be one hell of of an instrument... As good as a guitar costing many times as much. By Jn on December 25,2020 This is my third Glarry guitar and I love it.
I had to do the usual setup, new strings, polish frets, steel wool the neck and fret board, lower the action, and set intonation but after that it plays like a dream. It has a wonderful sound when played through a decent amp and I use it in a band every weekend. Thanks for a great guitar, the price is very reasonable. This is my first review, the other two guitars are also great after setup and I will recommend Glarry to all of my friends!
By Dr on December 24,2020 Picked up a blue f hole tele for black Friday sale and I gotta admit, very nice and a great bargain for the price. As soon as it arrived I cut the strings and put some slinky 10's on it and gave that neck a good lemon oil treatment. The neck was straight but after a week it did need some relief removed from it. The intonation was close and the string height I was able to go down a good bit without fret buzzing. By Wr on December 18,2020 This is a real good looking guitar.
Plays pretty well right out of the box. With a minimal amount of tweaking it to my personal preferences it is gonna be Fine. Note, check out the full range of reviews on uk dot glarrymusic dot com , regarding this Glarry GTL Semi-Hollow Electric Guitar with F Hole & HS Pickups. The product images are close guides only, actual pattern and colour of the item may vary slightly due to production and light conditions. Please contact Fabgents for other forms of payments.
In some cases we may request proof of address for better customer service experience. We will normally dispatch your goods within 48 working hours unless otherwise specified, e.
Under unexpected circumstances thats out of our control, or when your order needs extra information and we receive no reply after we had contacted you. Team will open the original package to check item prior to dispatch, and the original packaging can arrives opened / damaged. Please contact first if purchaing the item from outside of UK Mainland. Photos of parcel and receipts with be retained as proof. We reserve the right to refuse an order if we are reasonably in doubt of the authenticity of the order or the effectiveness of local post system.
If the goods are not faulty and you are returning it within the cooling off period you will be responsible for the return carriage costs. You are responsible for the care of the goods whilst in your possession and returning them in good condition in the original packaging including all documents and manuals. Fabgents makes every effort to provide full and accurate information in this listing, and the best prices available online. It reviews all its listings regularly, so prices are subject to changes.
We aim to keep sufficient stock level and update the records in this listing. However, in times of unexpectedly high demand we may unfortunately run out. If performance of any of our obligations to you is prevented, frustrated or impeded by reason of acts of God, war and other hostilities, civil commotion, acts of terrorism, accident, strikes, lock outs, trade disputes, acts or restraints of Government, imposition or restrictions of imports or exports or any other cause not within our reasonable control, we will do our best to maintain our deliveries. However, we shall have no liability to you for any failure which is due to such unforeseen circumstances or any other situation outside our control.
Age restrictions apply to the supply of some goods. The terms and conditions of business are not intended to affect your statutory rights or to limit our liability for death, personal injury or fraudulent misrepresentation resulting from our negligence. The terms and conditions of business will be interpreted and adjudicated under English law. In the unlikely event when there is a problem with your order, we will contact you in advance to discuss. Alternatively, if you noticed something went wrong, please get in touch so we can resolve issues amicably and fairly. The item "Glarry GTL Semi-Hollow F Hole Electric Guitar Set+Bag+Tool+Pick+Strap UK Seller" is in sale since Saturday, December 26, 2020. This item is in the category "Musical Instruments\Guitars & Basses\Electric Guitars".
The seller is "fabgents" and is located in London. This item can be shipped worldwide.
Size: 4/4
String Configuration: 6 String
Model: SHL006
Model Year: 2020
Series: GTL
Type: Electric Guitar
Fretboard Material: Rosewood
Number of Frets: 22
Neck Material: Maple
MPN: CDE023202
Performance Level: Beginner
Handedness: Right-Handed
Body Material: Basswood
Brand: Glarry
Set Includes: Cable