Grateful Dead 30 Trips Around The Sun 1988 Oxford Plains Maine ME 7/3/88 3 CD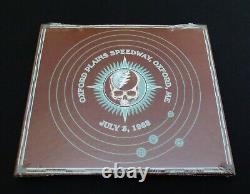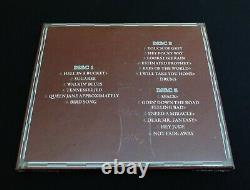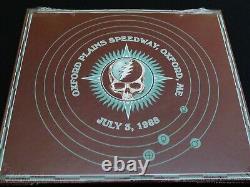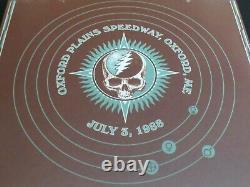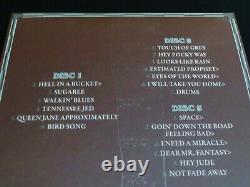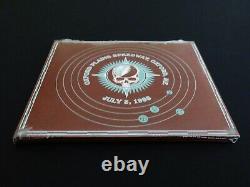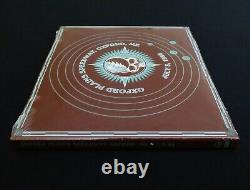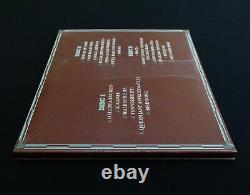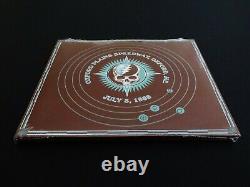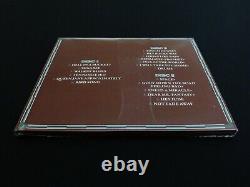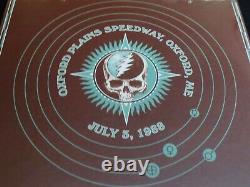 Grateful Dead : 30 Trips Around The Sun : 1988 : Oxford Plains Speedway - Oxford, Maine (ME) - July 3, 1988 (7/3/1988 / 7/3/88) : 3 CD : GD 50 release : 2018 (1988/2015/2018) Grateful Dead Productions, Inc. / Rhino (GDP / Rhino) - Brand New / Factory-Sealed!
2018 GDP / Rhino issue! The Grateful Dead' Live' at the Oxford Plains Motor Speedway!! - on the 1988 Summer Tour!!! " Show of the 1988 " 4th Of July Weekend! The East Coast Tour Leg' Closing-Show!
Of the'88 Summer Tour!! I Will Take You Home! Delivered by the Good Ol' Late-'80's! Oxford Plains Night # 2!!
Offered here is the " 1988 " CD Set Brand New / Factory-Sealed! Grateful Dead " 30 Trips Around The Sun " Set - originally released in 2015 in direct conjunction with the much anticipated 50-Years! Celebration of The Grateful Dead (1965 - 2015)... And, to honor this Landmark! Rock & Roll Achievement - Grateful Dead Productions / Rhino originally released a 30-Years! " Box Set - to rightfully' Commemorate' "'65! And in unprecedented & So-Cool!
This Monster Box Set included Thirty (30) Grateful Dead Shows on Thirty (30) CD Sets (80-CD's in total) - and, each CD Set represents the sequential years of the Band's 30-Year development... Obviously, this was a Deadheads Dream! Type Box Set - for the Beyond-Special occasion... Of 50-Years Upon Our Heads!
Fantastic, to say the least... " 30 Trips " 1988 3-CD Set selection offered here... At the Oxford Plains Motor Speedway!!! One of only 16-Shows ever-played by the Dead - in Maine! Which, is indeed a quality' inside-joke' for many of us that have taped and/or tape-traded real-hard over the past decade(s) - because for whatever reason it might just have been...
The Grateful Dead always tended (way more-often, then not) to pretty-much Smoke! Most likely due to the Fan-Love to & from the loyal Northeast Hot-Bed of Deadheads in the'70's &'80's Era - and also since nearly-all of the Venues played were smaller, and in many cases " Intimate " - in comparison to many other Tour-Venues of the time, back east. And, as far as all of the " Maine-Dead " delivered by the Band over the years in the'80's Era...
It's really in a lot of ways This-Run! Which was considered to be the Grate-est! Deadhead " Fiasco " - as far as the whole element of the " Scene " itself goes. As we were just over a year-after the release of " Touch Of Grey " - and the Band is choosing to deliver a 2-Show-Run!
At the Oxford Maine Motor Speedway!!! This obviously was the' Last Time' the Dead & its Beyond-Loyal Fans & Crowd (&' Scene') were - should we say Welcomed! Not to even mention too - as this 2-Show run was conveniently scheduled for July 4th Weekend!
" of 1988 - which, you bet invited the " Party to these Shows. As in this Era - the Band even being able to play places like-this was sort of a Last-Hurrah... And understood acceptance of being banned and/or just not welcomed back.
Sort of the - well, better' Enjoy It While It Lasts! And, what even put the Grate! " Spotlight " on this 7/2/88 & 7/3/88 Oxford Plains, Me Dead-Run! Actually considered, and still consider the 7/2/88 Show (the Show' before' this 7/3/88 Show) to be The Best! Show of the entire Grateful Dead 1988 Touring-Year. Which, really makes this " Night-After " 7/2/88 all the more interesting really - and especially for those Dead Fans out there that still are perhaps not familiar with this 7/3/88 Show, and the overall'88 " Importance " of this Oxford Plains, Maine Summer Tour'88 stand.
I'm actually a little surprised myself even - that the 7/2/88 Show didn't get' Picked' for the 1988 slot of this Magnificent 30-Trips! I also take a little pride in it myself too - as since all the way back' to' these Shows, now " over " 30-Years Ago? I always reached for my 7/3/88 Tapes, more than my 7/2/88 Tapes.
So, I suppose it feels like there is actually some kind agreement out there to my own claim. As while on-paper, and in performance execution collectively by the Boys - I'd have to agree that 7/2/88 is indeed cleaner, played more with perfection, better-overall, and certainly more' Historic' - also with a Set I, Set II & Encore Set List to pretty much " Die-For ".
7/3/88 has some of those same & similar Moments Of Magic! It's just packaged in a little grittier, sloppier, nastier, and' attacking' Live' fashion. As it's safe to say that while not everyone is on the same-page' all-throughout' this 7/3/88 Show...
It's still Beyond-Clear that everyone on-stage is Still! Delivering their' All' - while reaching for the Gold-Ring!
Which, in the case of the'88 Grateful Dead - can often mean, and does mean in this particular case - that the Boys get a little " Bluesier " - which, at least for me personally... And, it's really' The-Dead' that you would walk into these Venues (and' Fields' in this case)... As while " Night # 1 " (7/2/88) delivered the Iko, the Blow Away, and really one-of The!
Set II's of 1988 >>> Crazy Fingers > Playin' > Uncle John's > Terrapin > Wheel > Gimme Some Lovin' > Watchtower > Dew > Sugar Mag - Encore = Mighty Quinn! There was still a bit of a' conservative' nature of the overall energy of the Band - like you might naturally reasonably-expect in a " Marquee " 2-Show stand at a Rad!
Venue like say an' Oxford Plains Motor Speedway'. And, believe me (as I'm sure you're already well-aware)... In this Show, and mainly in Set II - obviously... But, with that said - they certainly want to make at least 1-Show of this 2-Show stand " Significant " in the eyes of the Loyal Dead Fans! - and, it just really' happened' to go down on' Night # 1'. If you can' also' smack it out of the Park on " Show #2 " as well? What you get & what you hear inside the slightly Hidden-Magic! On & off - and safe to say... But, just like any Musician worth his weight in Live-Music experience and/or knowledge well-knows... And, at least to my humble Dead Fan ears...
Is always what it was all-about, over all other things - and, especially in... As let's just face-it entirely...
As it was nights like' Both' 7/2/88 & 7/3/88 which enabled the Band to soon deliver the chops & Live-Magic!! And, as far as play-by-play goes on this 7/3/88 Show... It's just one-of-those-Dead-Shows - which, you need to listen to time & time again - and, believe me... You'll fall in-love with it. As the interplay of the Band " Personalities " and stage-moves are all so clear & Awesome! In all of the key-moments which makes a Great Show a Grate! As probably best-said - we're not talking " Perfection " here by any means - but, we are witnessing Perfect-attempts of every-band-member taking the baton & running with-it! - when they feel that jam pocket, transition spot is there - and yep, even when throwing in the towel is necessary too!
Goes - this is just a true Encapsulation! - and for that reason... And as-for the Bird Song?
As arguably, to many out there - this 7/3/88' Bird Song' really-is the say " Signature-Moment " of this Dead Show!! And, as for Set II?
Straight off of that Oxford Plains Set II " Green-Flag " Waving!! Solid, but - no Touch > Pocky! I Will Take You Home!! And, not to mention too - This-Show! On 7/3/88 also wrapped-up the " Eastern-Swing " of the 1988 Summer Tour Leg!
- and, from here it was onto' The-Greek! So, it was quite-clear on this Summer Tour'88 East Coast! The Good Ol''80's!
- and yeah, the Magic-Tank!! Most-certainly an'88 Dead Show which I can tell you - you' really' should not be living without! TRACK LISTING >>> Grateful Dead : Oxford Plains Motor Speedway - Oxford, Maine (ME) - July 3, 1988 (7/3/1988) : Disc 1 : Hell In A Bucket > Sugaree Walkin' Blues Tennessee Jed Queen Jane Approximately Bird Song Disc 2 : Touch Of Grey Hey Pocky Way Looks Like Rain Estimated Prophet > Eyes Of The World > I Will Take You Home > Drums.
Space > Goin' Down The Road Feeling Bad > I Need A Miracle > Dear Mr. Not Fade Away Item Condition : This Rare Grateful Dead 30 Trips Under The Sun " 1988 " CD (3-CD) release Oxford Plains Speedway - Oxford, Maine (ME) - July 3, 1988 (7/3/1988) by Grateful Dead Productions, Inc. / Rhino (GD50 - 2015 / 2018) is Brand New / Factory-Sealed!
This individual'88 CD Set was removed from an entire Brand New / Factory-Sealed Thirty (30) CD-Set 30 Trips! Please see all photos provided. Photos included are of the actual item you will receive.
- and from 7/3/88 at the Oxford Plains Speedway! Please Note : This listing is for one (1) Grateful Dead 30 Trips Under The Sun " 1988 " CD Set (3-CD), as shown in the multiple photos provided (please see photos).
The Grateful Dead 30 Trips Under The Sun UPC Code (603497891108) was entered in this listing, since there are no individual UPC bar codes printed on any of the CD Sets. " 1988 " CD Set' Only' - (Grateful Dead - Oxford Plains Speedway - Oxford, ME - 7/3/88).
Please see all photos provided... This item is in the category "Music\CDs".
The seller is "springfromnight1989" and is located in this country: US. This item can be shipped to United States, Canada, United Kingdom, Denmark, Romania, Slovakia, Bulgaria, Czech Republic, Finland, Hungary, Latvia, Lithuania, Malta, Estonia, Australia, Greece, Portugal, Cyprus, Slovenia, Japan, Sweden, South Korea, Indonesia, Taiwan, South Africa, Thailand, Belgium, France, Ireland, Netherlands, Poland, Spain, Italy, Germany, Austria, Bahamas, Israel, Mexico, New Zealand, Philippines, Singapore, Switzerland, Norway, Saudi Arabia, United Arab Emirates, Qatar, Kuwait, Bahrain, Republic of Croatia, Malaysia, Brazil, Chile, Colombia, Costa Rica, Panama, Trinidad and Tobago, Guatemala, Honduras, Jamaica, Antigua and Barbuda, Aruba, Belize, Dominica, Grenada, Saint Kitts-Nevis, Saint Lucia, Montserrat, Turks and Caicos Islands, Barbados, Bangladesh, Bermuda, Brunei Darussalam, Bolivia, Ecuador, Egypt, French Guiana, Guernsey, Gibraltar, Guadeloupe, Iceland, Jersey, Jordan, Cambodia, Cayman Islands, Liechtenstein, Sri Lanka, Luxembourg, Monaco, Macau, Martinique, Maldives, Nicaragua, Oman, Peru, Pakistan, Paraguay, Reunion, Vietnam.
Artist: Grateful Dead, Jerry Garcia, The Grateful Dead
CD Grading: Mint (M)
Record Label: Grateful Dead Productions, Inc. / Rhino
Release Title: Grateful Dead 30 Trips Around The Sun 1988
Case Type: Cardboard Case ( 3-CD )
Color: Multicolor
Case Condition: Mint (M)
Inlay Condition: Mint (M)
Edition: Anniversary Edition, Collector's Edition, Deluxe Edition, Live, Special Edition, 2015 Grateful Dead Productions, Inc. / Rhino, 2018 GDP / Rhino \
Type: Album
Format: CD
Release Year: 2015 (1988/2015) Grateful Dead Productions, Inc. / Rhino
Language: English
Era: 1980s
Instrument: Bass Guitar, Drums, Electric Guitar, Guitar, Keyboard, Organ, Percussion, Voice
Style: 1980s, American Folk, Art Rock, Blues Rock, Country Blues, Country Folk, Electric Blues, Electric Folk, Experimental, Experimental Rock, Folk Rock, Jazz Rock, Progressive Country, Progressive Folk, Progressive Rock, Psychedelic Folk, Psychedelic Rock, Singer-Songwriter, Vocal, Progressive/Art Rock, Rock 'n' Roll
Features: HDCD, Live Recording, Sealed, Grateful Dead, Grateful Dead 30 Trips, Grateful Dead 30 Trips Around The Sun, Grateful Dead 1988, Grateful Dead 30 Trips 1988, Grateful Dead 30 Trips Around The Sun 1988, Grateful Dead July 3, 1988 7/3/88 7/3/1988, Grateful Dead Oxford Plains Speedway Oxford Maine, Grateful Dead Oxford Plains Speedway Maine ME, Grateful Dead Maine
Genre: Blues, Country, Folk, Jazz, Progressive, Psychedelic, Rock, Rock 'n' Roll, World Music
Run Time: 3-CD
Country/Region of Manufacture: United States
Grateful Dead, 30 Trips Around The Sun: 1988, 7/3/88, 7/3/1988, Oxford Plains, Maine, ME
UPC: 0603497891108