Hybrid Vintage Stratocaster Strat Electric Guitar Pickups Alnico V single coil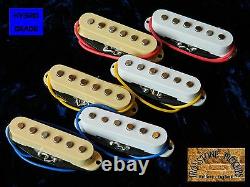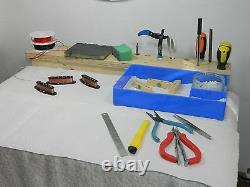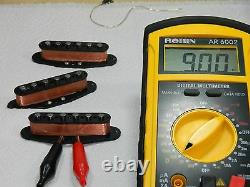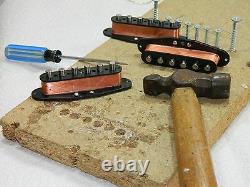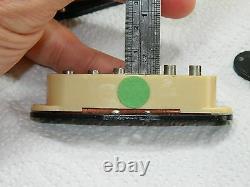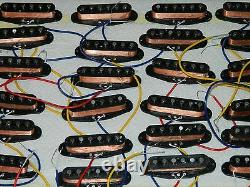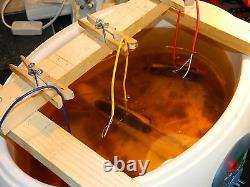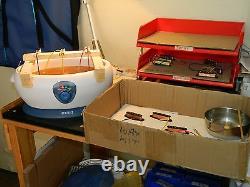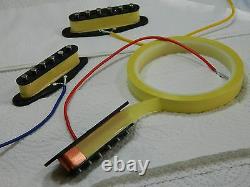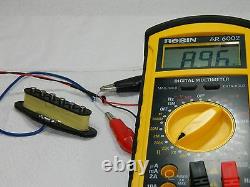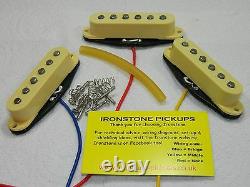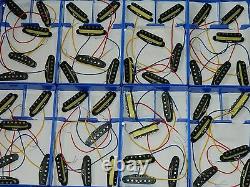 Just a small sample of the full Ironstone range! Well Ive fitted the hybrid pups into my Fender Strat and OMG, what an unbelievable difference, they are simply awesome. Each one has its own unique and very impressive tonal quality especially on a clean sound, they sound just as good as any vintage Strat Ive heard and Ive heard a few. Since the beginning of 2010, with the simple mission. "The coolest Vintage tones with outstanding value and service". Precise materials selection, including Alnico magnets, ensures authentic vintage tone is at the heart of all of the Ironstone designs. Ironstones Strat pickups Hybrid set is an Alnico V configuration featuring a heady mix of vintage style pole piece stagger, 43 AWG windings (as the Texas Specials) and a very potent high winding resistance pattern. The combination gives a real Fender 60s / 70s early CBS era sound palette, from a sabre sharp bridge tone to a really meaty bass by way of an almost Led Zep III electro-acoustic sounding Middle. These top end pickups feature a hand set quasi vintage pole piece stagger and a full 25 minute wax potting using a 20/80 beeswax and paraffin wax mix. NOTE FOR LEFT HAND PLAYERS : The Hybrids are not recommended due to their asymmetrical stagger pattern. And check out my 2 Blogs on the building of a set of Hybrids on the Ironstone Pickups website.
The Ironstone Stratocaster'Hybrid' sets at a glance. Your (Hybrid) pups are so good its almost criminal! Alnico V magnet pole pieces for authentic warm vintage tones.
Playing styles that emphasize gritty higher output Blues or Classic Rock tones, yet are still able to produce silky smooth warm tones when dialled back a little. Classic Reverse Wound / Reverse Polarity middle coil configuration. Bridge + Middle poles are South Up (attract compass North), Middle is North Up.
Hand set vintage stagger for a superb balance across the 6 strings for chords etc. Lightly beveled pole piece design, ideal for modern higher radius guitar fretboards.
Pole spacing- Bridge & Middle 52mm, Neck 50mm (asymmetrical, not suitable for Left hand installation). Supplied with Cream, White or Black cover options.
Colour coded output wiring; a generous length of shielded cable to minimise background noise. Mounting hardware includes screws, springs and Latex tubing for your mounting style choice. These and other pickups, check out the. Ironstone Pickups Sound Clips pages. Some Stratocaster Hybrid set customer comments. As a retired music guitar shop owner for 30 yrs. Ive heard a lot of pickups believe me but holy smokes nothing like what Im about to tell you about. Its hard to describe what it was like when I plugged in my guitar with the new Ironstone Hybrid Alnico Vs just installed but let me try.
I bought mine a long time ago and have only recently been able to fit them (project was put on hold when my first child decided to show up). I was dubious because of the low price, but I must say that I was astounded when I first heard them in my squire strat. I have found so many different sweet spots for different styles.
They really do give you such sweet tones. Your pickups are simply wonderful. Ive never heard my old Tokai Jap strat sound so good.
Screaming, edgy treble from the bridge. Classic warm bell-like clarity from the neck. And Im loving the Ritchie Blackmore Deep Purple tones I can get from the middle with some overdrive.
The real test for me in a strat is how much tonal difference there is between neck and middle and middle and bridge. The hybrids are fantastic in this respect. Both combinations give that great hole in the middle out of phase sound but both tones are very distinct. Clearly your hybrids are exquisite when it comes to translating the tone of the guitar through an amplifier. Ive actually just bought a cheap Korean strat copy to put another set of Ironstones on.
This time Im going for Golds. Expect another order from me in a couple of weeks. Your (Hybrid) pups are so good its almost criminal. Anybody looking for a hot sound that can pull off both modern and classic rock should not think twice, otherwise theyre just paying the extra 70 odd quid for a box with Fender on it.
Ive been playing for almost 15 years now, all my guitars and gear are from well known brand names and these Hybrids have definitely impressed me. They really offer a much richer tonal quality than the standard ceramic bar magnet pups on the vintage Squier Ive been rebuilding.
Combined with a couple of new orange drop capacitors, the output of the guitar is now much more refined big bass / middle tone and less high end twang on the bridge each setting has its own defined character, rather than just generic top middle and bottom tone. Clean and clearer with reduced single coil hum when you need it crunchy when you crank the volume up a bit! Well Ive fitted the hybrid pups into my Fender Strat and OMG, what an unbelievable difference, they are simply awesome. I cant wait to take this axe to the next band rehearsal so I can crank up the volume. I have installed them in my silver series strat and it has transformed the guitar, amazing tone it sounds like a strat is meant to sound, the balance from the bass strings to the treble strings is perfect, before it would wimp out and the the treble stings would not ring out and they were dull and life less, now it is perfect. Many people will not believe it, but I can assure these pick ups are the business.
Many thanks for such a great product. Any questions please ask, we are happy to answer. New to this and need a simple wiring diagram, pup adjustment method or advice? Then check out the'Gilmour Scratchplate', only available through the Ironstone website. Check out the Ironstone Pickups website!
Follow Ironstone on Facebook too! The item "Hybrid Vintage Stratocaster Strat Electric Guitar Pickups Alnico V single coil" is in sale since Saturday, May 18, 2019. This item is in the category "Musical Instruments\Guitars & Basses\Parts & Accessories\Guitar & Bass Parts\Pickups". The seller is "2onanisland" and is located in Oakham. This item can be shipped to United Kingdom, United States, European Union member countries, Japan, Canada, Australia.
To Fit: Electric Guitar
MPN: IRN-ST-2017-H
Brand: Ironstone
Model: Hybrid
Parts Type: Stratocaster Pickup Set Alnico V 5
Item Type: Single Coil Pickup sets
To Fit Guitar: Stratocaster Electric Guitar
Type: Single Coil
Active/Passive: Passive