JHS Muffuletta 6-way Fuzz Muff Settings Guitar Effect FX Stompbox Pedal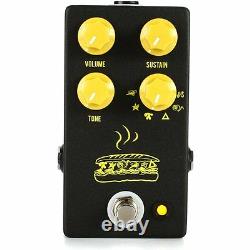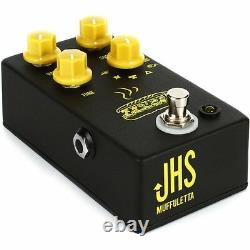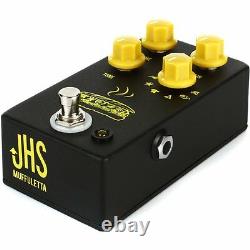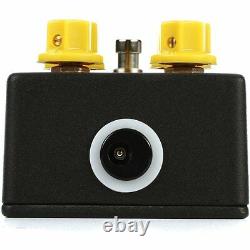 JHS Muffuletta 6-way Fuzz Guitar Effect Pedal. At Music Store Live we're all musicians like you, and we know how hard it can be to afford all the gear that you want and need. We encourage you to make us an offer. Often times, you'll be pleasantly surprised! We'll do everything we can to help get that next piece of gear into your hands.
In 1967 the legendary Mike Matthews started experimenting with circuits for the electric guitar, and by early 1969 he had created a circuit that has become one of the most legendary, collected and mythical pedals in the history of guitar effects. With 30+ versions made throughout its almost half a century lifetime, the Big Muff Distortion/Fuzz has personally pioneered the sounds of some of the biggest bands and musical movements in history.
The Muffuletta is our tribute to the legend and story of one of the greatest pedals ever invented. Let's take a look at what makes the Muffuletta the ultimate recreation of this circuit in a way that has never been done before. The heart of the Muffuletta is the fact that it replicates five (yes five) classic Big Muff circuits from years gone by as well as a new and original JHS version for a total of six Muff models. All executed without any digital signal processing or digital emulation. When you choose a model, you are achieving analog tone that uses real components and values found in the original units.
We have selected our favorite classic versions from the pages of history and made them available in one small format pedal that is easy to understand, operate and do what it should do. Replicate rare, expensive, mythical and sought after versions of this circuit with ease. Looking at the pedal, there are four controls: Volume, Tone, Sustain and Mode. The "Volume" control works just like any other volume control allowing you to adjust the overall output of the pedal to your taste. The "Tone" control lets you brighten or darken your overall tone. The "Sustain" control is best understood as a gain or distortion control as it gives more distortion to the circuit. The "Mode" control lets you choose from our six different versions of the Big Muff on the fly. Looking at the "Mode" control you will see six icons around the lower 50% of the knob. Let's take a look at each mode and why they made the cut to be in the ultimate Big Muff tribute.
The JHS Muff is a JHS original take on the classic circuit. You will find this version more powerful, less compressed with a more haunting mid range. It is also the best for bass guitar.
Over the years people nicknamed this unit based on the fact that is looks somewhat like a lamb or animal. It is best known for having a scooped mid range, less gain and being overall darker. Famous users include David Gilmour (main Pink Floyd recordings), Ernie Isley (Eisly Brothers), and J.
It is best known for having more low-end response and being more articulate. Famous users include Santana, David Gilmour's Pete Cornish made pedal boards, John Lennon, Kevin Shields (My Bloody Valentine), and possibly Jimi Hendrix. This is not to be confused with the later redesigned NYC version released much later in 2000. It is best known for a more aggressive sound. Famous users include Frank Zappa, Billy Corgan (Smashing Pumpkins), Jack White, The Edge (U2), Beck, and Pete Townsend (The Who).
It is best known for having less clarity and less low end. Famous users include Dan Auerbach (Black Keys), Chris Wolstenholme (Muse), and Robin Finck (Nine Inch Nails).
It is best known for having more mid range, brighter overall tone and less gain. Famous users include Thurston Moore (Sonic Youth), John Fogerty, Jeff Tweedy (Wilco), Mike Mills and Peter Buck (REM). The Big Muff has an amazing history and has been used by some of the most influential guitarists ever. Never before has there been a single pedal that gives you all these different eras of it's tone.
We are convinced that the Muffuletta can fit in anyone's rig who loves dirt, distortion and fuzz, and we think it will be hard for you to disagree once you plug it in and play. With a pedal so stuffed with tasty tones you will have a hard time needing anything else to curb your appetite. 5 legendary Muff fuzz settings. At Music Store Live, our goal is to revolutionize the way gear is bought online. Its not just about videos and know how; its about the person on the other end of the line.
We're musicians just like you. We strive to offer the best gear with the best online experience, and the best personalized service in the industry. The item "JHS Muffuletta 6-way Fuzz Muff Settings Guitar Effect FX Stompbox Pedal" is in sale since Friday, July 21, 2017. This item is in the category "Musical Instruments & Gear\Guitars & Basses\Parts & Accessories\Effects Pedals\Fuzz".
The seller is "musicstorelive" and is located in National City, California. This item can be shipped worldwide.
Brand: JHS Pedals
Type: Fuzz
MPN: Does not apply