Premium Jack Guard for Electric Guitars Keep Your Jack Safe and Sound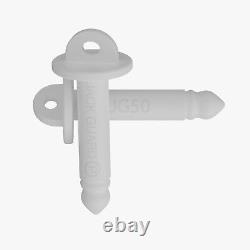 Our top-quality Electric Guitar Jack Guard, the perfect accessory to protect your guitar's fragile jack from accidental damage and wear! Crafted with precision and designed to fit most standard electric guitars, this jack guard is a must-have for every guitar player. Durable Construction: Our jack guard is made from high-grade materials, ensuring long-lasting protection for your guitar's delicate jack. Secure Fit: The jack guard is designed to securely fasten around the guitar's input jack, providing a snug and reliable fit. Sleek Design: Its slim profile seamlessly blends with your guitar's aesthetics, adding an extra layer of protection without compromising the instrument's look.
Easy Installation: With no special tools required, you can effortlessly install the jack guard yourself and keep your guitar's jack safe within minutes. Prevents Wear and Tear: Shield your guitar's jack from constant plugging and unplugging, reducing wear and tear and extending the life of your instrument. Enhanced Audio Connectivity: The jack guard ensures a secure connection, reducing signal interference for a clean and uninterrupted sound.
Protect your valuable investment and maintain the pristine condition of your electric guitar's jack with our reliable and affordable Jack Guard. Whether you're a professional musician or a passionate hobbyist, this essential accessory will safeguard your guitar's audio connectivity and keep you playing without any worries. Don't wait any longer!
Order your Electric Guitar Jack Guard now and enjoy peace of mind knowing your instrument is well-protected. Enhance your guitar-playing experience with our premium Jack Guard today!