Seymour Duncan Alex Skolnick Signature Pickup Set (Black) New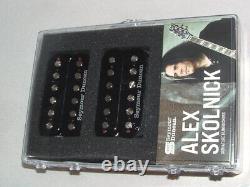 Emerging in the late 80s as the teenage prodigy of thrash metal legends Testament, Alex Skolnick immediately established himself as one of the genre's premier guitarists. In 2002, after earning a degree from New School University, he crossed over into jazz with the Alex Skolnick Trio and numerous other instrumental collaborations. Designed with Alex for his signature guitar, these humbuckers have been a popular Custom Shop made-to-order set. Both pickups complement the expressive melodies and aggressive palm muting that define his genre-spanning tone. I have been a musician for over 40 years, and know that quality items can greatly help both your sound quality and musical enjoyment.
That's a pretty good deal. Hopefully, I can be of assistance in your pursuit of great items that you will enjoy for years to come.