Seymour Duncan Dave Mustaine Signature Live Wire Set GOLD New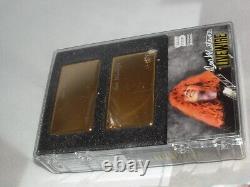 For years Dave Mustaine, the legendary charismatic leader of Megadeth, relied on our passive JB and Jazz humbuckers to record some of the most influential riffs in the history of Metal. But like most extreme players, eventually you just want more. We worked with Dave to voice a set of high output active humbucker pickups that deliver the distinct tonal character of the JB/Jazz combo, but with extra ferocity and gain. The Dave Mustaine LiveWire set is perfect for players who want to try active pickups without drastically veering away from the tone of the passive pickups they've become accustomed to.
A unique covered passive humbucker look embossed with Daves signature also ensures these will look and sound great in any guitar. We include pots, mounting hardware, capacitors (active pickups require a special cap value), battery clip, stereo output jack, and wire needed to install these high output humbucker pickups. I have been a musician for over 40 years, and know that quality items can greatly help both your sound quality and musical enjoyment. That's a pretty good deal. Hopefully, I can be of assistance in your pursuit of great items that you will enjoy for years to come.