Seymour Duncan Little 78 for Strat Set BLACK New with Warranty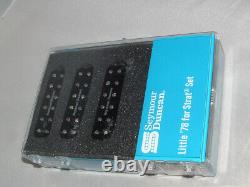 Sometime in'78, Eddie Van Halen gave Seymour Duncan a P. To experiment with, along with instructions to rewind it with the intent to enhance the reproduction of artificial harmonics and "hot wind" a little for some extra "juice". The Little'78 Strat is the single-coil sized humbucker version of that experiment. The magnet and output combination lends itself to a warm crunch with biting leads and overtone laden tapped runs. While this was not the final destination for Eddie, it offers players the opportunity to revisit a waypoint in the early days of his legendary pursuit of the ultimate tone. If you're a player who demands a high-performance tone the Little'78 Strat just may be your ticket.
I have been a musician for over 40 years, and know that quality items can greatly help both your sound quality and musical enjoyment. That's a pretty good deal. Hopefully, I can be of assistance in your pursuit of great items that you will enjoy for years to come.